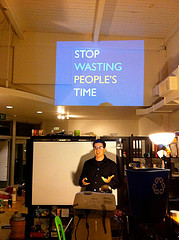 We enjoyed hosting Eric Ries, here at Wealthfront, for a great Lean Startup talk focusing on engineering. The event sold out pretty fast and was soon overbooked—we had lots of smart people coming in and talking about taking their engineering organization to the next step with methodologies like Continuous Deployment and looking into the real value of a new line of code.
Since we had to turn down many requests to attend, Ian (our master producer) made sure we publish the event on Wealthfront's UStream channel and let more people tune in.
Thanks a lot for attending the meetup. We have few great guests coming up in the next few months. The Wealthfront Engineering Meetups will be conducted every two months, to learn more about them you may follow our blog or the Twitter account.
Update: Voilá Eric's slides: